Elements of the Test
The driving theory test is separated into two parts:
1. Multiple choice quiz
2. Hazard perception test
Multiple Choice Quiz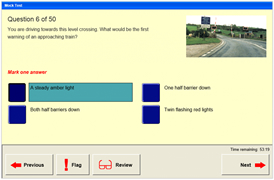 During the multiple choice part of the test, you will be quizzed on various aspects of The Highway Code and the more general rules of the road. You'll also be expected to know your traffic signs, along with how to identify the three basic types of traffic signs:
• Signs that give information
• Signs that provide warnings
• Signs that give orders
You will be presented with a wide variety of road signs, markings and symbols which you will be expected to identify and understand the purpose of.
Hazard Perception Test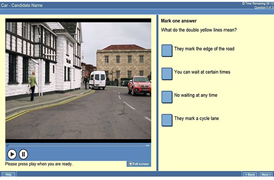 A relatively recent introduction, the hazard perception test presents learners with a series of clips depicting everyday scenarios on the roads. Each of the clips features at least one hazard, though it may also feature additional hazards.
The task is to use the clues and indicators available to identify these potential hazards, before they are able to cause an accident or injury. Examples of which could be children playing at the side of the street, an emergency vehicle with its lights flashing or a parked vehicle that may pull out in front of you.
You will be expected to identify and respond to the hazard at the right time - not too early and not too late - to ensure that you would take the appropriate action in a timely manner when driving on public roads.