Stockport driving lessons with a qualified, helpful instructor
Your nearest test centre is 1.9 miles away from Merseyway Shopping Centre - Bredbury (Stockport)
Lingard Lane
Bredbury
Stockport
Cheshire
SK6 2QT
Parking: A car park is available at this centre
Toilets: Male, female and disabled toilets are available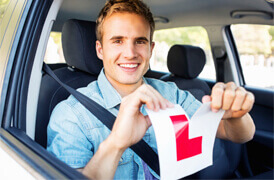 Manchester Driver Training is proud to offer a complete range of driver training programs at affordable prices. We cater to the needs of new and experienced drivers at all levels, offering both new driver training courses and refresher lessons across both Manchester and Stockport regions. We're also a leading provider of international licence conversion courses and specialist training for motorists who have previously had their licence revoked or been banned from driving. We work with drivers aged 17 to 90+ and tailor the services we provide to suit all requirements and budgets.
We pride ourselves in the friendliness, professionalism and courteousness of our staff. Each of our instructors is extensively experienced and Driving Standards Agency Licenced. Our extensive range of dual-control vehicles are serviced to manufacturers full requirements for total peace of mind. At Manchester Driver Training, our number-one priority is the safety and satisfaction of the clients we work with. Call anytime to discuss your requirements in more detail.
Areas Covered For Driving Lessons in Stockport
Driving Lessons and intensive driving crash courses in postcodes SK1 / SK2 / SK3 / SK4 / SK5 / SK6 / SK7 / SK8 / SK9.
Please Note: The below are prices for MANUAL lessons/courses.
*Refresher lessons are for FULL licence holders only.
(Please contact us for AUTOMATIC lessons prices).
Area

Driving Lessons
(per hr)

10 Hour Block

Refresher Lessons*
per hr, from)

Pass Plus Course

Intensive Courses
(per hr, from)

Adswood

£39

£380


£39

£239

£45

Bramhall

£45

£440

£50

£299

£45

Bredbury

£37

£360


£39

£239

£45

Brinnington

£37

£360


£39

£239

£45

Cale Green

£39

£380


£39

£239

£45

Cheadle Hulme

£39

£380

£39

£239

£45

Davenport

£39

£380


£39

£239

£45

Edgeley

£39

£380


£39

£239

£45

Hazel Grove

£45

£440

£50

£299

£45

Heaton Mersey / Heaton Moor /
Heaton Chapel / Heaton Norris

£37

£360


£39

£239

£45

Marple

£45

£440

£45

£269

£45

Offerton

£37

£360


£39

£239

£45

Poynton

£50

£490

£60

£299

£45

Reddish

£37

£360


£39

£239

£45

Romiley

£45

£440

£45

£269

£45
The following are just a few of the services that our Driving School in Stockport provides
Manual Regular weekly Driving Lessons in Stockport from £37 per hr
Our driving school in Stockport provides hardworking driving instructors at a fair price. Our driving lessons in Stockport can be up to 2 hours or more in duration.
Our Team of driving instructors in Stockport cover most of the Stockport postcode areas. Please call if you are unsure whether your area is covered. We can also provide driving lessons in Poynton and Prestbury and cover Macclesfield / Mobberley / Knutsford / Hale Barns / Hale / Marple and Romiley for intensive driving crash courses please email to confirm prices. Also, please call if you require a Pass Plus Driving lesson course in Stockport or Macclesfield. Our driving lessons in Stockport are catered for from early morning until late evening. If you would like to book a driving lesson and live in a Stockport postcode area please call us with your full availability and requirements. To undertake driving lessons in Stockport you must have a Provisional Driving Licence before you can begin your driving lessons.
Refresher Driving Lessons in Stockport from £39 per hr
If you've already passed your driving test but would like to stay as safe as possible on the roads, we can provide the refresher lessons you need to boost your confidence.
Our Refresher driving lessons in Stockport are ideal for people who are fully qualified drivers but haven't driven for a while and want to build up their confidence and increase their skill before going out on to the road by themselves again. Our Refresher driving lessons in Stockport can be arranged at a quiet time of day if required. Our team of driving instructors in Stockport are very skilled at setting the lessons to meet your full requirements and progress at a pace that you are happy with.
Refreshers lessons are ideal for:
Motorists who haven't driven much since obtaining their licence
Motorists who lack confidence on the roads and may not fully understand the rules of the road
Motorists who have been involved in an accident and have subsequently lost their confidence
Exactly how many refresher driving lessons you take is entirely up to you. Your refresher lessons can also be used to pave the way for a Pass Plus Course.
If you would like to combine your refresher lessons with Pass Plus, please call for more information.
Mock Tests from £37 per hr
If you are doing driving lessons in Stockport, it is very worthwhile to undertake a practice test before taking the real test. The practice test allows the learner driver to acquire first hand knowledge of the driving test and how they will need to perform in a similar environment. Our driving instructors are trained to give feedback to the learner driver so that they can work on any faults and be fully prepared for their actual driving test.
Booking a Driving Test
The main Driving Test Centre that covers Stockport is Bredbury Driving Test Centre. Some of our learner driver pupils also prefer to undertake their driving test at West Didsbury Driving Test Centre or Cheadle Fire Station Driving Test Centre. It is best to discuss this with your driving Instructor as he or she will have specific knowledge of practice test routes / driving lesson planning to suit your needs.
Emergency/Last Minute Tests
Unfortunately, it's not uncommon for some instructors and examiners to let down their clients at the worst possible time. If your test has been cancelled at the last minute but you're ready to get the job done, we can help.
We're one of Manchester's leading providers of short notice driving test cover, providing a lifeline for customers who've been let down at the last moment. Please note that you will need to undertake a separate 3 hour preparation lesson before the test goes ahead so that you can be assessed in advance of your driving test appointment. If your standard of driving does not reflect that of the U.K. driving test requirement your allocated driving instructor would not be able to let you use their training vehicle on the day of your driving test, as safety is the priority.
Intensive Courses
Our intensive driving courses in Stockport are delivered by one of our professional driving instructors in Stockport. Our intensive courses are normally scheduled as 5 hour intensive lessons with a 30 minute break in the middle.
A semi intensive driving course in Stockport is also provided for. This is equivalent for e.g. to a 10 hour intensive course over 2 days leading up to a driving test in Stockport. Please let us know your timetable that you have allocated to undertake your intensive driving course and we will check if one of our team is available to meet your requirements.
The driving test centre which covers the Stockport postcode areas is called Bredbury driving test centre (Postcode SK6 2QT).
Please see our intensive driving crash course information page guide for full details regarding how our intensive course service works.
Student Driving Lessons Stockport
Stockport has a few Colleges such as Stockport College in central Stockport and Aquinas College in Offerton, Stockport. There is also the Cheadle and Marple College. If you are a Student at one of these places of education and require driving lessons in Stockport then please contact us with your full requirements. If you need your driving lessons to start at your College and finish at home then please let us know and we will try our best to cater for your needs.
Pass Plus Stockport
Pass Plus can be great for both boosting your confidence on the roads and saving you money on your insurance premiums. Choose from a comprehensive Pass Plus course, or arrange a one-hour element of the Pass Plus Course covering one specific area of the program.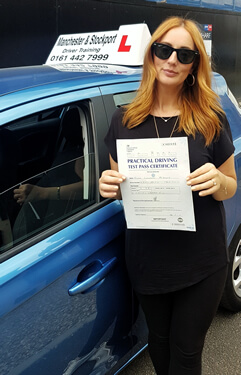 Please note that Pass Plus is only available upon passing your driving test. The course is open to anyone regardless of when they have passed their driving test and is also open to full EU Licenced drivers form other EU member states.
In order to receive Pass Plus certification, you will need to complete a six-hour course comprising the following advanced driving disciplines:
Introduction/town driving.
All weather driving.
Out of town driving/rural roads.
Night driving.
Dual carriageways.
Motorway driving.
There is no such thing as 'passing' or 'failing' the Pass Plus course but if your standard falls short of competent then your trainer may advise further training. All Pass Plus certificates are processed and sent to you by the DVSA Pass Plus department, this can take up to 3 weeks.
When organising vehicle insurance, you will then be able to present this certificate as proof of having completed the Pass Plus course. This could result in discounts of as much as 25% off your annual premiums indefinitely. An insurance company may offer a discount regardless of when you passed your driving test to reflect the fact that you have undertaken additional training to make you more aware on the road. If you are looking for insurance please click here.
The six hours' tuition of the Pass Plus course is normally undertaken over three 2 hour lessons or two three hour lessons. Some people may choose to undertake a six hour Pass Plus Intensive Driving Crash Course.
International licences
Are you an international license holder?
If you would like to convert your international driving licence into a full UK driving licence, we can help. Manchester Driver Training provides a complete range of tailored tuition services to suit all requirements and budgets.
Driving Instructor Training Stockport
All aspects of the courses we provide are meticulously tailored to suit the individual requirements and budgets of the clients we work with. That's why you won't find a better deal on the driver tuition program you need in Stockport.
Please email to discuss your requirements in more detail.
Banned Drivers
We understand the unique challenges of getting back on the road after having a license revoked, or being banned from the roads by the Magistrates court. If you need to take your test again or arrange an extended driving test, we're standing by to take your call.
At Manchester Driver Training, we can help you prepare for your test and get you back on the roads as quickly and safely as possible. We understand that you will already have a certain amount of driver experience, therefore will start the program at a more advanced level.
Call anytime to discuss your requirements in more detail.
Fleet Assessments
2 Hour Fleet Driver Assessment – from £120
This compromises of:
A fleet risk presentation. This is conducted by way of a one-to-one meeting with the driver, discussing important issues such as business car driver accident statistics, the Corporate Manslaughter Bill and more.
A vehicle condition report. Each driver is then quizzed with regard to the frequency and extent to which they conduct important vehicle checks, which may include checking cooling levels and tyre pressures.
A practical assessment driving on public roads, where any potential issues noted or 'risks' that need to be addressed are noted and subsequently discussed by the tutor. This is to ensure that the driver in question is made aware of the strengths and weaknesses of their driving style.
Provision of a written report and details of areas for improvement. The driver receives a verbal report on the day of their assessment, while a written copy is sent directly to their employer.
We specialise in Fleet Assessments for company "reps" and commercial businesses. (CAT-B Vehicles Only) i.e. cars/combo vans/ transit vans.
Driving Instructor Franchise
If you are a PDI or ADI looking for a part time or full time Driving Instructor Franchise in the Manchester or Stockport areas please contact us. Franchisees can own their own vehicle (if suitable). Please email your full requirements to Martin info@manchesterdrivertraining.co.uk
We also have our own in house training opportunity please see here.